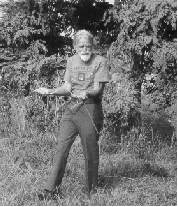 Harvey Lisle, age 93, died August 2nd, 2009. Last year he was awarded the Dowsing Legend award from ASD. He taught dowsing to countless interested people all over the world, including the members of the former Jim Perkins Dowsers of Ohio and the Ohio Buckeye Dowsers.
Harvey was into biodynamic farming and an avid reader Rudolf Steiner's writings. He preferred blessing his compost, instead of using preps, to obtain the cosmic forces, calling it cosmic compost.
Harvey was an avid beekeeping, utilizing the earth energy lines to discourage disease and mites. He soon found himself communicating with the elementals, using prayer to resolve issues with plants as well as animals. He embraced biodynamic farming whole-heartedly and lecturing world wide.
Until the end Harvey was ever learning and open to new ideas. He was a top-notch dowser and was actively dowsing when he accidentally fell down a flight of stairs with his dowsing rods in his hands.
During a memorial to him at our last dowsing meeting one of the members said a silent prayer to him. She said Harvey "Rest in peace" and she heard him reply "I'm too busy!"
---
Obituary - Norwalk Reflector
Friday, August 7, 2009
Harvey Clarence Lisle
Harvey Clarence Lisle, 93, of rural Norwalk died Sunday, Aug. 2, 2009. He was born Nov. 3, 1915 in Columbus, Ohio to Clarence and Mabel (Truxall) Lisle. As a youth he carried papers, hand dug poles for the phone company and earned the rank of Eagle Scout. He graduated from Mansfield Senior High in 1933 and went on to major in chemical engineering at the Ohio State University. A the outbreak of WWII he was called up and sent to a post in India.
He was married to Louise Seybold on July 13, 1941. She preceded him in death on March 27, 1997. He is survived by a brother Richard (Nioves) of Jacksonville FL and three daughters: Jean (Jim) Hill of Gadsden AL, Betty Keppler of Shiloh OH, and Marilyn (Robert) Welker of Urbana OH. He also leaves to cherish his memory ten grandchildren and thirteen great-grandchildren. He was preceded in death by a son, Donald Leroy, in 1950.
Harvey was an avid naturalist, keeping life lists of birds. He was a beekeeper, a soil chemist and grower of biodynamic fruit. He was a member of the Ohio Ecological Food and Farm Association, the Anthroposophical Society, Nature conservancy, and Audubon, along with many other organizations. He frequently lectured on soils and dowsing and authored a the book The Enlivened Rock Powders. After his retirement from the Norwalk Post Office he enjoyed international traveling visiting Japan, Peru, Egypt, Belize, Australia, and the Azores.