Websites of my children and other family members
My middle daughter Anita went to Korea to teach English for a year. This is a link to her blog: http://anitagrey.wordpress.com/
Vision Media and Marketing: Serving the Greater Cleveland area and beyond, Vision Media and Marketing is a full service advertising company and production facility. Our goal is to show that professional national level advertising is within your reach and within your budget.
DGN Photography - This is my eldest daughter's website. She does on-location family portraiture. She does beautiful work! dbgphoto@yahoo.com
Adventures in Friendship - This is my sister Mary 's project for Kiwanis. Several hundred foreign college student workers will be working at Cedar Point, Kalahari, and other locations in Erie County this summer. Their view of USA is often limited to tourists, co-workers, and employee housing, but not American families and homes and how we REALLY live here.

It is difficult for young foreigners to determine trustworthiness of the people they meet at work.

Americans can volunteer to become an ambassador for our country, to meet and know some of the best and brightest young people from other countries, and to show them the joy and love we share in our country. You can also be an adult presence for these young people, their security, the persons whom you would hope your own children would encounter if they went abroad.

This is a little different from the high school exchange programs we are familiar with locally. The students have housing and jobs! All you are is a friend. Check out the video that Donny did for them!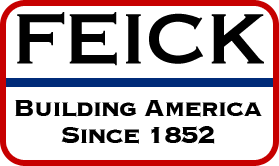 Feick Contractors, Inc. - Architects - Engineers - Surveyors - General Contractors - Construction Management located in Sandusky, Ohio. We believe we've found a better way to build. It starts with a belief that if we listen to you more intently and collaborate more closely, together we will build structures that meet your needs and your specifications more completely. What Makes Us Different? As a design/build contractor, we provide you with all the services needed to complete your next project. This means cost and time savings on your project.
http://www.ancestry.com/facts/Feick-family-history.ashx
- Where Feick families lived in 1920, - good site for finding family roots