Now why in heaven's name would anyone buy an instrument that she wouldn't know what to do with when she got it - especially when it is as big and loud as a pow wow drum? I felt an overwhelming desire, that's why. I came into some money and spent most of it on practical stuff....storm windows and replacing a roof that was in bad shape. I was a member of a drumming circle but we played djembes and other single player drums. I had gone to a pow wow that didn't happen a year before - got rained out - at Kelley's Island and got to play with some Native American drummers/singers. I didn't know any of the drummers and when I did try to find one of them for a grade school program, I didn't have any luck. Native Americans in this area are an oddity. I don't remember ever having a conversation with anyone of Native American descent before this time.

What came to me on why I should order the drum is "It will bring people together". So I called Lark in the Morning and ordered the drum. He said it might take six months before I got it. OK. No problem.

Back to the drumming circle. We were playing one Friday night at the Artisan's Cooperative in downtown Sandusky when Edwin Poulin came in just to see what it was all about. Ed is Lakota and Seneca. By the time the evening was over we had had a drumming ceremony and had new respect for Native American drumming. Ed went into the hospital the next day for surgery and was going to be laid up for several weeks.

Two days later, the pow wow drum arrived at my door. Ed was too sick to share the joy of finally receiving the drum. But I was talking to my friend Mary, and she said "Desi's in town."
"Who?"
"Desi. You met him last year at the pow wow on Kelley's Island."
"I don't remember him at all."
"Well, I'll call him."

So she did. And it seemed like only a couple minutes had gone by when I got a phone call from Desi.


"You got a pow wow drum? Can I come and see it?" he asked.
"Yeah, sure."
"When?"
"Well, I'm home right now."
Desi came right over and could hardly contain himself with joy when he saw the drum. I faintly remembered him from seeing him at the Island. Quiet guy. Wore a baseball cap. Sang and drummed well. Desi was admiring the drum when I told him about Edwin. Turns out Desi or Blackhawk (Yaqui) and Edwin lived across the street from each other and never knew it.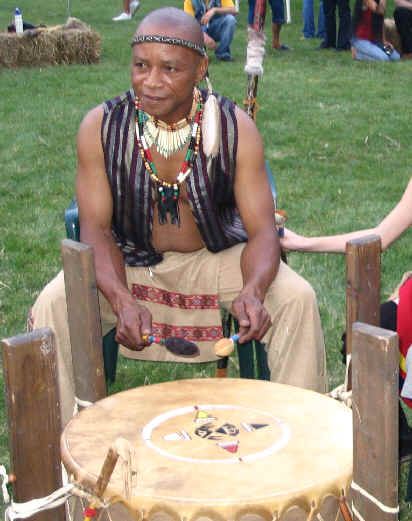 Don't ask me why I would turn over an expensive drum to someone I didn't know who wanted to paint a design on it, but I did. The first thing Desi did though was take the drum over to his neighbor whom he had never met.

Edwin has since moved on. But that drum did bring people together. It still does. I let Desi keep the drum. He takes it to grade schools and festivals and explains Native American drumming to the children. I can always get the drum when I want it. Besides, if you've been browsing through my instrument pages, you'd know I really don't have a good place to put it. I had thought that maybe I could make a cover for it and it could double as a coffee table but somehow that just didn't seem right.

The drum brought Desi together with another Native American - Max who was raised Choctaw by his grandmother. Desi and Max put together the first powwow in Sandusky, Ohio (summer 2005). The small picture above shows Desi playing a Native American flute. The picture to the right shows Max with the drum.