From Kids Make Music by Avery Hart and Paul Mantell - a terrific book to add to your library....

"What's that? You never heard of a boom-bah? Well, then you've never visited the Leather Corner Post Hotel and Restaurant in Fogelsville, Pennsylvania. That's the "Home of the Boom-bahs," where people boom and bah every Friday night. But don't worry. You don't have to go the Pennsylvania to find a boom-bah. You can make one of your very own! That's what folks in Fogelsville do, and they should know - they invented boom-bahs!

"Boom-bahs are like people - each and every one is a unique creation, never to be duplicated. An old pogo stick is the ideal spine for this unique instrument, but a broom stick with an auto spring and rubber foot (the kind you find on stool legs) on the end does fine, too. (If you don't have a rubber foot, play the boom-bah inside a carton or glue felt to the bottom, and it won't make marks on the floor.)



"Once you've got the spine painted and gussied up, and ready for booming, it's time to add on the bahs - jingling keys, bells, bottle caps - any noise maker you can think of. Attach them with the strong, round staples used to hold telephone wires, or nail things loosely on the stick."

I also have a fancy store-bought one called a stumpfiddle.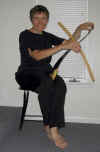 Musical Saw & Flexatone:

I saw an add for a musical saw in the back of "Mother Earth News" a number of years ago. Had to have one! Cost the same as my household allowance at the time. So after stretching the food budget with beans, I ordered it. I hid in the upstairs bedroom until I learned how to play it.

History and other bits about the Musical Saw from Scratch My Back by Jim "Supersaw" Leonard & Janet E Graebner (By the way, if you like the musical saw as much as I do, this book is a must! The book is fascinating and really fun to read. Not only that but Jim puts out a tape of his playing. Listen to it and you will know why he is called Supersaw!!)


"Despite guffaws to the contrary, the singing saw is considered an authentic American folk instrument.

"But from Where?

"Some say the Ozarks, others say the Appalachians. Still others say musical sawing originated in Scandinavia during the 1800's, or in South America where the natives were known to strike their large crosscut saws to accompany their work songs. It has even been suggested that the musical saw arrived in the US on the African slave ships of the 1700's.

"Actually, no one knows with certainty who discovered that violin-like music could be drawn from the common handsaw, much less when, although general agreement dates it from the mid-19th century, with the saw's greatest popularity spanning the vaudeville circuit during the 1920s and 1930s.



"Clarence Mussehl, in 1919, accidentally came across the musical saw during a vaudeville show at Milwaukee, Wisconsin's old Majestic Theater. A novelty act billed as the Weaver Brothers featured Leon Weaver playing a carpenter's saw, and Clarence was fascinated enough to later spend his life mastering its secrets and promoting what he considered an often maligned and little understood instrument.

"During the decade that Leon worked the vaudeville circuit alone, June and Frank Weaver fooled with the saw off and on, and by 1916 they had achieved enough sawbility to join Leon on stage. But there was a slight hitch. They held the saw the way Leon had seen Fitch Cooper play it; sitting on the handle with his legs spread, the blade extended forward. Considered unladylike for June, this spread-eagle position prevented her from playing in public. So she played other instruments: a single-string violin made from a garden rake, autoharp, and bicycle pump. She later came up with the way most people play it today, holding the saw handle between her knees. She also discovered that by placing the tip of her right toe on the floor and jiggling her right knee she could achieve a quivering tremolo in the saw blade that added emotional expression to the music. She later used the bow that she used to play the rake and changed saw playing forever!"

The Stradivarius Musical Saw by Sandvick - I have their baritone saw
Here's another page about how to get and play the musical saw
The Official musical saw home page....


The Flexatone was introduced in the 1920s and used in American jazz. Its blade was cut from the top of a saw. The blade was bent to give different tones while the instrument was waved up and down in one hand two wooden beaters attached to it would strike the blade. Believe it or not there have been compositions written that include the flexatone. Click here to go to webpage with more about the instrument. If you can't get your kids' attention at home, this instrument works very well!


Click to
Now why in heaven's name would anyone buy an instrument that she wouldn't know what to do with when she got it - especially when it is as big and loud as a pow wow drum? I felt an overwhelming desire, that's why. I came into some money and spent most of it on practical stuff....storm windows and replacing a roof that was in bad shape. I was a member of a drumming circle but we played djembes and other single player drums. I had gone to a pow wow that didn't happen a year before - got rained out - at Kelley's Island and got to play with some Native American drummers/singers. I didn't know any of the drummers and when I did try to find one of them for a grade school program, I didn't have any luck. Native Americans in this area are an oddity. I don't remember ever having a conversation with anyone of Native American descent before this time.

What came to me on why I should order the drum is "It will bring people together". So I called Lark in the Morning and ordered the drum. He said it might take six months before I got it. OK. No problem.

Back to the drumming circle. We were playing one Friday night at the Artisan's Cooperative in downtown Sandusky when Edwin Poulin came in just to see what it was all about. Ed is Lakota and Seneca. By the time the evening was over we had had a drumming ceremony and had new respect for Native American drumming. Ed went into the hospital the next day for surgery and was going to be laid up for several weeks.

Two days later, the pow wow drum arrived at my door. Ed was too sick to share the joy of finally receiving the drum. But I was talking to my friend Mary, and she said "Desi's in town."
"Who?"
"Desi. You met him last year at the pow wow on Kelley's Island."
"I don't remember him at all."
"Well, I'll call him."

So she did. And it seemed like only a couple minutes had gone by when I got a phone call from Desi.


"You got a pow wow drum? Can I come and see it?" he asked.
"Yeah, sure."
"When?"
"Well, I'm home right now."
Desi came right over and could hardly contain himself with joy when he saw the drum. I faintly remembered him from seeing him at the Island. Quiet guy. Wore a baseball cap. Sang and drummed well. Desi was admiring the drum when I told him about Edwin. Turns out Desi or Blackhawk (Yaqui) and Edwin lived across the street from each other and never knew it.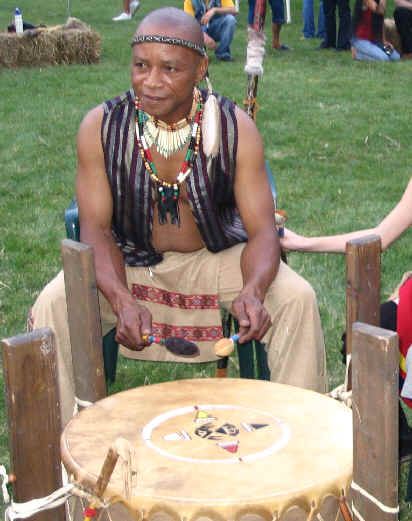 Don't ask me why I would turn over an expensive drum to someone I didn't know who wanted to paint a design on it, but I did. The first thing Desi did though was take the drum over to his neighbor whom he had never met.

Edwin has since moved on. But that drum did bring people together. It still does. I let Desi keep the drum. He takes it to grade schools and festivals and explains Native American drumming to the children. I can always get the drum when I want it. Besides, if you've been browsing through my instrument pages, you'd know I really don't have a good place to put it. I had thought that maybe I could make a cover for it and it could double as a coffee table but somehow that just didn't seem right.

The drum brought Desi together with another Native American - Max who was raised Choctaw by his grandmother. Desi and Max put together the first powwow in Sandusky, Ohio (summer 2005). The small picture above shows Desi playing a Native American flute. The picture to the right shows Max with the drum.
Websites by Barbara F. Gregory:
barbfeick.com - Index of all my sites.
Barb's Vaudeville - Best musical saw in the area! LOL!!
Feick Family Cookbook - Best loved family recipes
Household Forms - I was probably the only parent in town with written house rules. But I had requests from other parents for copies of them. My children are grown - I don't need them any more, so I am passing them on to you.
Firelands Dulcimer Club - Whoever would have thought that this odd but easy-to-play folk instrument would have a revival. There are dulcimer clubs all over the United States - over 20 clubs just in Ohio!
Musicians/ Entertainers - in the Sandusky, Ohio area

Public_Domain_Dulcimer- I have a yahoo group for sharing the Appalachian dulcimer music I have arranged.