Sandusky Register, November 18, 1903, page 3
Old Resident Dies
Mrs. Johanna Feick succumbs to attack of paralysis - was well known in Sandusky
Mrs. Johanna Fulton Feick died at the family residence, 212 Central Avenue, last evening at 5:30 o'clock, aged 66 years.
Mrs. Feick was born in Columbiana County, Ohio, March 1, 1841. She married Adam Feick in 1860, Mr. Feick dying in 1893. She was the mother of ten children, seven of whom survive. They are John and Lewis Feick of this city; Mrs. John Mertz, Mrs. Louis Zerbe, Mrs. John Renner, Mrs. W.C.Schaub of this city and Mrs. E.N. Odenbaugh of Fort Wayne, Ind. Three brothers, Fred Fulton, of Montpelier, Ohio; John Fulton, of Blanchard Station, Ohio and Henry Fulton, of Kenton, Ohio, also survive. The deceased has twelve grandchildren.
It has been the custom of the family to gather every Sunday evening at the Feick home. Last Sunday night about 11:30 o'clock, Mrs. Feick was stricken with paralysis before those of the family left for their homes. All the members of the family were present when the end came.
Mrs. Feick was a member of Zion Lutheran Church. The funeral services will be held Friday afternoon.
Postcard

Picture postcard was in the Fulton folder. People were not identified.
Picture of 5 people - Adam Feick in center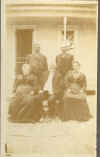 Upper right - Henry Fulton (lost his right arm)
Lower, from left - Johanna Fulton Feick, wife of Adam (center) and sister of Henry
June 23, 1907 Fulton Family Reunion

June 1907 reunion
at Adam Feick Home
212 Central Ave
Sandusky, Ohio
Seated left to right
1 (big mustache)
2
3 Mrs Fred Fulton
4 Johanna Fulton Feick (Mrs. Adam Feick - x under her picture)
5 Mrs. Sylvester Fulton Zeller
6 Sylvester Zeller
7 _____ Fulton
8 Maggie Fulton (spouse is Henry)
9 Henry Fulton
10 Charlie Savege
11 Minnie Savage
12 Fred Odenbaugh (spouse is Emma)
13 Emma Feick Odenbaugh
14 Mary Lucille Feick (daughter of Lewis & Ada)
15 Louis Alfred Feick
16 ?
17 Rausch?
18 ?
Standing
1 Ida Feick Mertz
2 Fred Fulton
3 Cora Renner
4 John Fulton
5
6
7
8 Bain Fulton (Shorty)
9
10
11
12
13 John Mertz
14 Will Schaub
15 Minnie Feick Schaub
June 23, 1907 Fulton family reunion

Front row (left to right)
1 ?
2 Mary Lucille Feick, daughter of Lewis A
3 ?
4 Rausch?
5 Bain Fulton, son of Maggie & Henry Fulton
Second Row
1 Sylvester Zeller
2 Mrs. Sylvester Zeller (Fulton)
3 Mrs. Adam Feick (nee Johanna Fulton - Henry is brother)
4 Adam Feick
5 Mrs Fred Fulton
6 Mrs Henry Fulton
7 Mr. Henry Fulton
8 John Fulton
Third Row
1 - baby Alma Mertz
2 John Mertz
3 ?
4 ?
5 ?
6 Will Schaub
7 Minnie Feick Schaub
8 Mr. Ed or Fred? Odenbaugh (Mansfield, Ohio)
9 Mrs. Ed Odenbaugh (nee Emma Feick, daughter of Adam & Johanna)
10 Mrs. John Mertz (nee Ida Feick, daughter of Adam & Johanna)
11 Mr. Lewis A Feick (son of Adam & Johanna)
12 ?
Fourth Row
1 ____ Fulton
2 ?
3 Rausch?
4 ?
5 Minnie Savage
6 Charlie Savage
7
8 Cora Renner
9 (big mustache)